From Padre's "free drink with foreclosure notice" special in Phoenix to NYC's famed Gray's Papaya $3.50 Recession Special, these restaurants and bars are profiting from penny-pinching specials.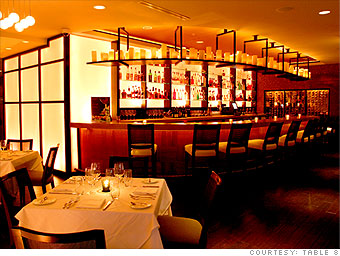 Josh Woodward, Chris Heyman and Chef Govind Armstrong - the three partners behind the
Table 8
restaurants in Los Angeles, South Beach, Florida and an upcoming New York City location - tell customers that even in the midst of the recession, you can still "live like you did when gas was just $4 a gallon," in Woodward's words. The solution: Order off of Table 8's Recession Concession menu.
The menu - essentially a prix-fixe offering of three courses for $42 (South Beach) or $38 (Los Angeles) - bundles regular entrees, appetizers and desserts together into a combination deal.
Since its launch in March, the menu has drawn more customers to the restaurant, Woodward says. He sees it luring in customers who previously had the perception that Table 8 was too expensive for them.
The menu fairly faithfully mirrors Table 8's regular roster of dishes, in both preparation and portions. "We may not put our largest steak on it, but it's all the same dishes one could order a la carte and spend twice as much," Woodward says.
NEXT: Partying through the pain