A bright idea in a financial crisis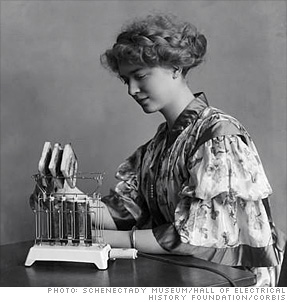 A woman demonstrates a General Electric Toaster, ca. 1920.
Company:
General Electric
Ticker:
GE
Industry:
Energy and other
Founded during:
Panic of 1873
Kicking off the Long Depression was the Panic of 1873, which began when major investment firm Jay Cooke & Co. collapsed, causing the NYSE to shut down for days. The ensuing financial crisis lasted six years.
Sound like an ideal time to open a laboratory? That's what Thomas Edison thought as he set up a facility in Menlo Park, N.J., in 1876. There, he produced the first light bulb in 1879 - the same year the panic officially ended. Although economic conditions would remain poor until 1896, Edison had gained enough momentum to start a company he called Edison General Electric Company. In 1896, Edison's GE landed a spot on the first-ever Dow Jones Industrial Average. Today, it is the only remaining company of the original twelve.
Status today: GE posted $183 billion in revenues in 2008, but its earnings were down 19%. Profits from GE's consumer and industrial segment dropped 65% during the year, and GE Capital's profits fell almost 30%. While GE's energy sector saw a modest growth in profits, the company is bracing for a rough 2009.

NEXT: Smooth riding through a panic