Think a recession is a bad time to start a company? Imagine if the founders of these major corporations had thought the same...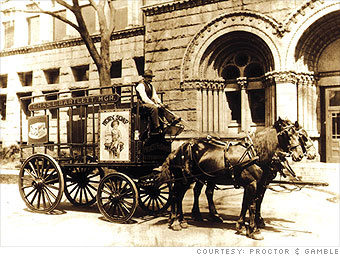 A P&G distributor makes his rounds in the 1870s.
Company:
Procter & Gamble
Ticker:
PG
Industry:
Household products
Founded during:
The Panic of 1837
Candle maker William Procter and soap maker James Gamble joined forces to start a small household-goods business in Cincinnati. It was a risky move for the brothers-in-law: The shaky economy had a full six years of financial crisis ahead. Massive migration to the West caused land prices to rise, and inflation soon followed. Under President Martin Van Buren, bank failures and concerns about the paper economy spurred the greatest economic decline since the birth of the country. But P&G survived and went on to score lucrative contracts to supply necessities to the Union Army during the Civil War.
Status today: With $83.5 billion in revenue in 2008, Procter & Gamble has built a portfolio of some of the most recognizable brands in the U.S., including Tide, Pampers, Oral-B, Iams, Pantene, Duracell and Pringles. The company's shares took a hit this past year, but it has held steady against smaller competitors such as Johnson & Johnson and Colgate-Palmolive, and its earnings remain strong: P&G had net earnings last year of $12.1 billion. Because consumers rely on P&G products in good times and bad, it is considered a titan even in a rough economy.
NEXT: Outliving a long depression