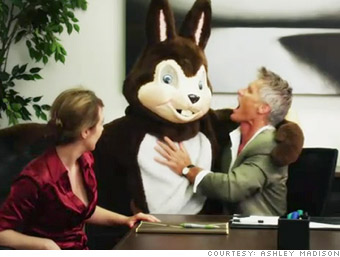 Ashley Madison:
The Internet dating service for adulterers recruited porn star Savanna Samson for an ad that Fox rejected for the 2011 Super Bowl.
The ad: In the ad, Samson plays an office worker who catches her husband cheating on her, so she decides to get busy with everybody in sight, including a man and a woman. Inspired by Samson's exuberance, her co-workers mess around with a four-legged friend (in this case, it's another beaver) and a plushie - a person who gets a thrill from dressing up like a stuffed animal.
Why it was rejected: "It's not that the ad itself is offensive in any way, shape or form," said Ashley Madison founder and chief executive Noel Biderman. "The nature of our business is one that they're not comfortable with." Ashley Madison offers an "X-rated" version of the ad on its web site.
Fox declined to explain specifically why it rejected the ad. "We do not provide information about materials that may or may not have been submitted for review, nor do we discuss our broadcast standards policies," said Fox spokesman Lou D'Ermilio.
NEXT: Veggie Love
Last updated January 25 2011: 3:42 PM ET